As a self-proclaimed ingredient snob, I've tried a ton of all-natural beauty and hygiene products. But the most difficult category to find a good option, in my opinion? All-natural deodorants. I've found that organic soaps lather and natural moisturizers moisturize, but most body-healthy deodorants fail to keep you feeling dry and smelling fresh. After several years of searching, however, I've found the exception: Lume.
This product ended up on my radar because of the brand's hilarious advertisements — namely its Christmas-themed commercial that makes fun of Hallmark movies. Admittedly, I watched it beginning to end several times, but usually, a funny ad isn't enough to get me to try something.
That said, this one came at a good time. I'd just started traveling again, and as a routine-oriented homebody, travel stresses me out. Throw in the fact that I'm trying to stay safe in the middle of a pandemic, and my "tried and true" natural deodorant suddenly wasn't standing up to the nervous sweats. (Fun fact: Stress sweat is a real thing, and it's often more potent and more resistant to antiperspirants.)
Needless to say, I decided to give Lume natural deodorant a shot, and I'm really glad I did — for multiple reasons.
This Deodorant Is Way More Skin-Friendly Than Alternatives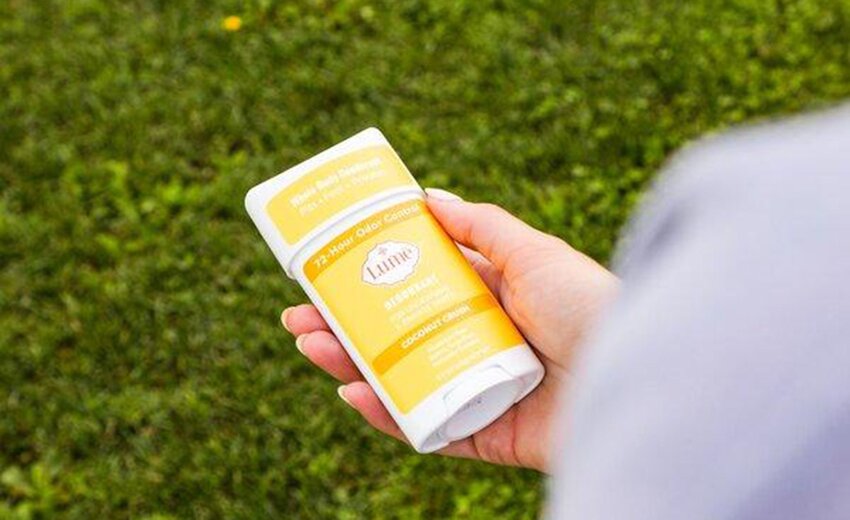 Most natural deodorants steer clear of aluminum, parabens, and harmful chemicals, but there's one ingredient that's almost always present: baking soda. Baking soda is absorbent and natural, so it must be okay for the skin, right? Not so much. It turns out that human skin is mildly acidic; it has a natural pH level between 4.5 to 5.5 — while baking soda is alkaline and has a pH level of 9. Search any natural deodorant with baking soda, and you're bound to find at least a few customer-posted images of nasty underarm rashes. That's why.
Lume is one of the only brands that skips the baking soda altogether. (It also skips the aluminum, parabens, talc, and artificial fragrances.) Instead, this option absorbs moisture using tapioca starch and root powers. Since odor happens as a byproduct of sweat-eating bacteria, Lume has special, natural ingredients that stop bacteria from ingesting your sweat to begin with. As a result, it stops odors before they happen, as opposed to trying to fight them afterwards.
The formula was developed by an OB/GYN, so it's also hypoallergenic. In fact, Lume is so gentle, it's not just an underarm deodorant; you can also use it on your feet, your private parts, or anywhere else you'd like to control odors. That brings me to my next point:
Lume Is Much More Travel-Friendly, Too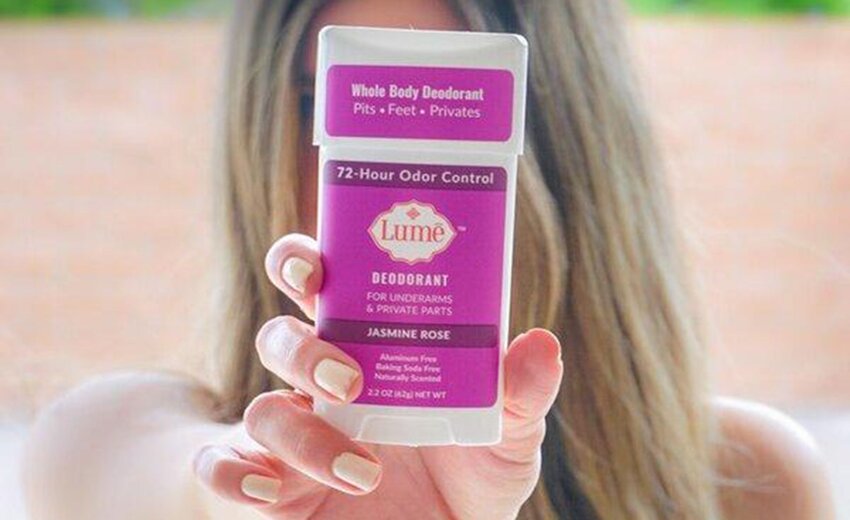 As mentioned, I picked up this deodorant right before I started traveling again, and it proved to be a life-saver. Yes, it kept me smelling fresh for hours and hours while I loaded my luggage into the car, nervously dodged New York City traffic, and eagerly awaited my next shower — but the consistency is unlike anything I've ever tried before.
This deodorant has a lotion-like texture that absorbs into skin within seconds. The same formula comes in both a traditional swipe-on propel stick and a travel tube, and the latter is ideal for packing and full-body application. It also doesn't leave marks on your clothes, so I don't have to wait for it to dry before I can get dressed in the morning. That's huge for someone like me, who has a primarily all-black wardrobe.
Finally, Lume comes in a wide range of different scents, from warm vanilla to bay rum (and if your skin is especially sensitive, you can opt for the unscented version.) Basically, if you're looking for a reliable, all-natural option that keeps you smelling fresh from head to toe, this one is worth the splurge — especially if you're constantly on the go.