Obviously, the best gift for a traveler is a Round The World ticket, but if that's not in your budget (or if you want a gift that'll last multiple trips) we've got you covered. No matter who you're shopping for, you'll want something that's both thoughtful and practical — though that goes double for Mother's Day gifts. After all, this holiday is all about giving back to the women in your life, and you know the saying: if you love somebody, set them free… on vacation.
These travel-friendly presents are well-rated and thoughtful for your mom, grandma, aunt, sister, wife, cousin, bestie, neighbor — any woman who loves to roam. In fact, don't be surprised if these gifts end up in every suitcase they pack from here on out.
1. This Travel Pillow That Adapts to Any Situation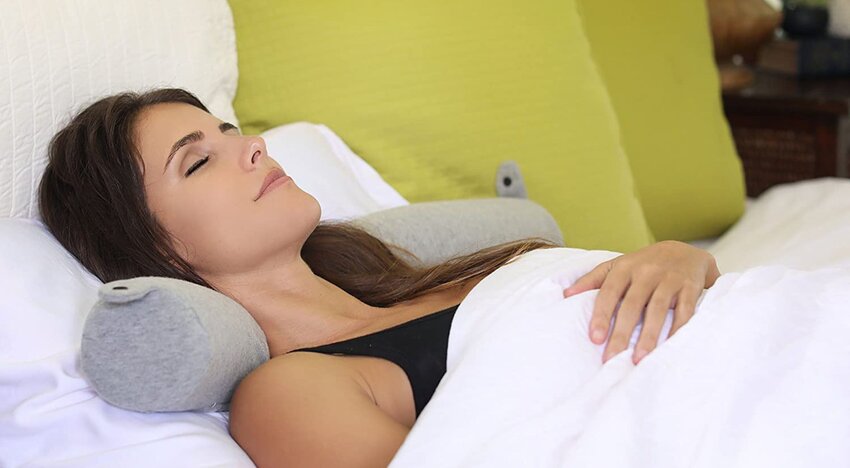 Your standard travel pillow goes around your neck — that's it. The Dot&Dot travel pillow, on the other hand, adapts to just about any situation or sleeper. Instead of a structured design, it has a jointed inner core that bends and twists any which way. As a result, you can use it to prop up your neck from all angles, but you can also use it to soften a window, support your lumbar, improve a hotel-room pillow, or nap comfortably across your arm.
This one comes in four different colors, each with a memory-foam interior and a removable cover that you can machine-wash when you get home. Currently, it has a 4.4-star rating and over 6,500 reviews, one of which says: "Got this for my mom when she went to Italy due to her neck/back issues. She loved it and found it super helpful."
Buy it here: Dot&Dot Twist Travel Pillow|$25
2. A Jewelry Case So She Can Travel in Style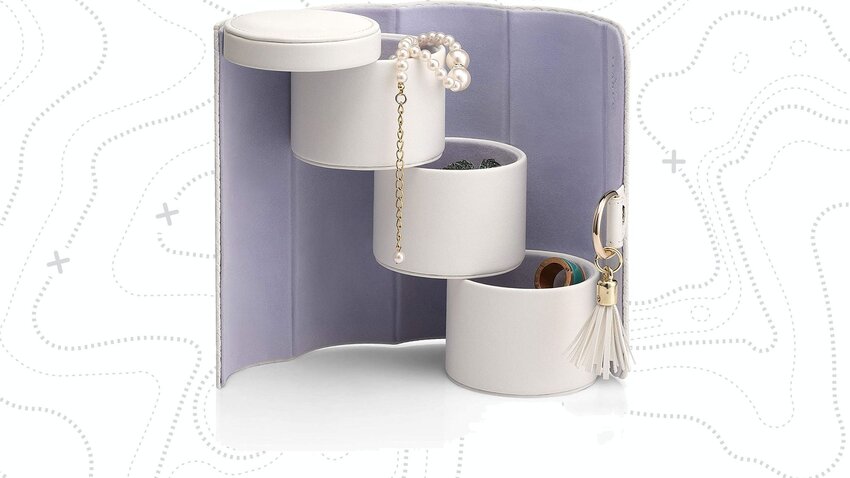 Typically, traveling with your favorite jewelry is a nightmare, but the Vlando travel case makes it much easier. Since it measures just 7.3 by 3.3 inches, it fits in your carry-on or purse, so your valuables are always within sight — but it still has four distinct compartments to organize your favorite pieces and prevent them from tangling. (Just unroll the cover, and they'll separate like magic.) All of the options have a textured faux-leather on the outside which is structured to protect your jewelry, but you can choose between lilac purple or hot pink for the velvet-like interior.
Buy it here: Vlando Travel Jewelry Case|$20
3. These $60 Earbuds That Rival AirPods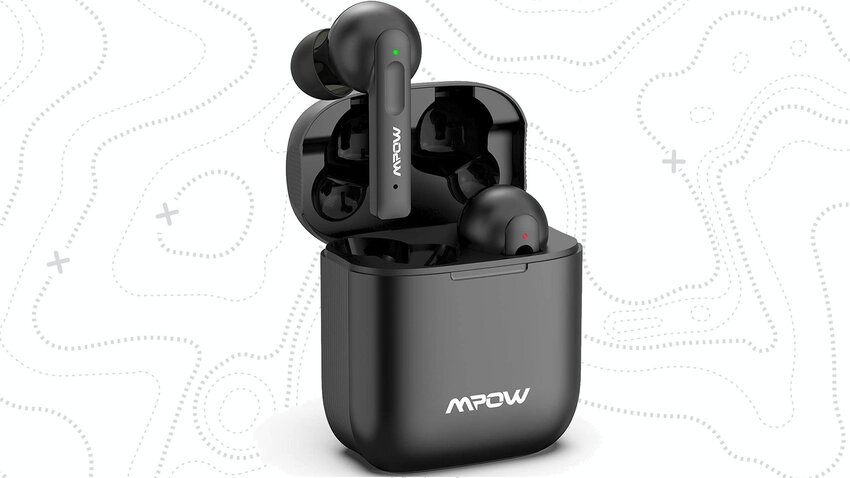 When AirPods are a little bit outside of your budget (or if you don't want to travel with your most expensive pair of wireless headphones), it's good to know that there are alternatives. In fact, reviewers say that these Mpow earbuds "sound as good" and "stay in [their] ear better" than Apple's top-seller, all for a fraction of the price.
They offer active noise-cancellation for loud environments — like planes, trains, and busy cities — and they have up to 30 hours of playback time when combined with the charging case. The four built-in microphones mean that Mom can access her voice assistant or call you, hands-free and without distortion. Finally, even if she's not too tech-savvy, the one-step pairing and smart-touch controls make for virtually effortless usage.
Buy it here: Mpow Noise-Canceling Earbuds |$60
4. This Packing List That Ensures She's Prepared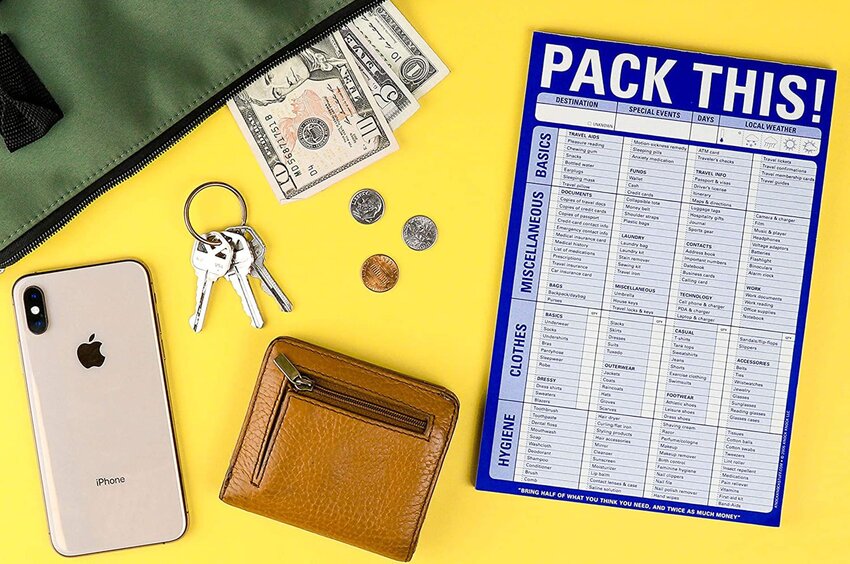 For the mother who's ultra-organized, or for the mother who could use a little help in that department, there's this brilliant packing list from Knock Knock. Each page covers absolutely all of your bases, from basics like toothbrushes, underwear, and sunscreen, to things you probably would've forgotten otherwise — motion sickness remedies, copies of your travel documents, and a sewing kit, just to name a few. There are 60 identical pages, so she'll be prepared for quite a few trips, and each one even allows space to document the destination, number of days, and local weather.
Buy it here: Knock Knock Pack This! Pad | $7
5. This Candle That Brings Home Anywhere With You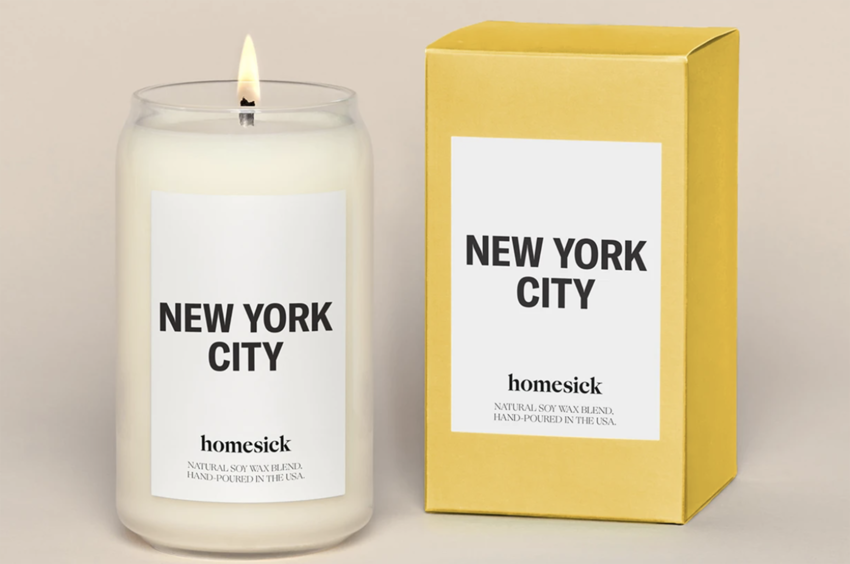 Sometimes travel is a double-edged sword. Sure, you get to see and fall in love with tons of places — but eventually, you'll have to leave them behind for somewhere new. A Homesick Candle is the ideal gift for someone who moves often or has found multiple homes during their travels. Each one uses only natural soy and cotton wicks, and is crafted to emulate distinctive scents from various cities, states, and countries.
The New York City candle, for example, smells like Central Park, concrete, and high-end department stores. The Colorado candle smells like spruce, cedar, and sandalwood. The Brazil candle smells like a refreshing caipirinha on a beach. That way, no matter where she's lived or where she's headed, she can take the memories of her favorite places with her.
Buy it here: New York City Homesick Candle|$34
6. This Scratch-off Map for the World-Traveler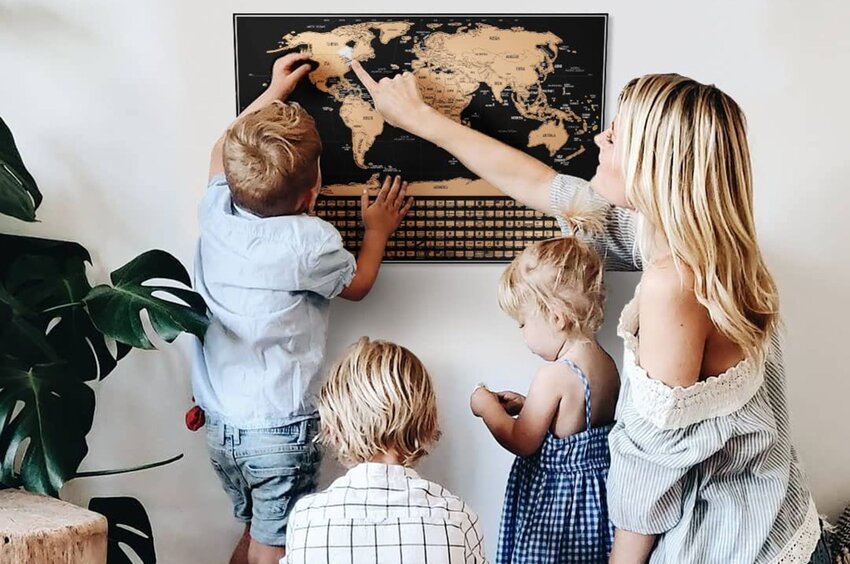 Some people travel leisurely at their own pace — while others do it with a bucket-list-level intensity. If she's one of the latter, help her keep track of her accomplishments in a satisfying, visual way. The scratch-off map from Landmass is a 17-by-24-inch poster that displays every continent in the world, not to mention its countries, states, and provinces. Once she's been, she gets to use the included scratch tool to reveal a bright color underneath, and she can scratch off the country's flag at the bottom, too.
Buy it here: Landmass Scratch-Off World Map |$13
7. A Clutch for Her Passport, Cards, and Boarding Pass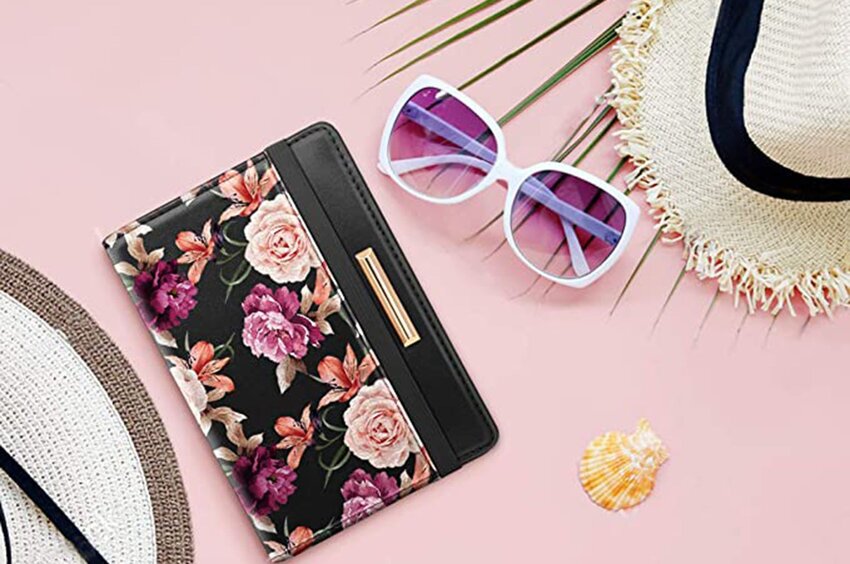 From the outside, it looks like a classy clutch with flowers, glitter, or a faux-leather material. The interior, however, is optimized just for the traveler. The Coco Rossi travel wallet has designated sleeves for your passport, ID, credit cards, and boarding pass, so all of your essentials are organized and in one spot. It also offers RFID-blocking technology, which prevents high-tech pickpockets from stealing your information.
Buy it here: Coco Rossi Passport Wallet | $11
8. This Scale That Takes the Guesswork Out of Packing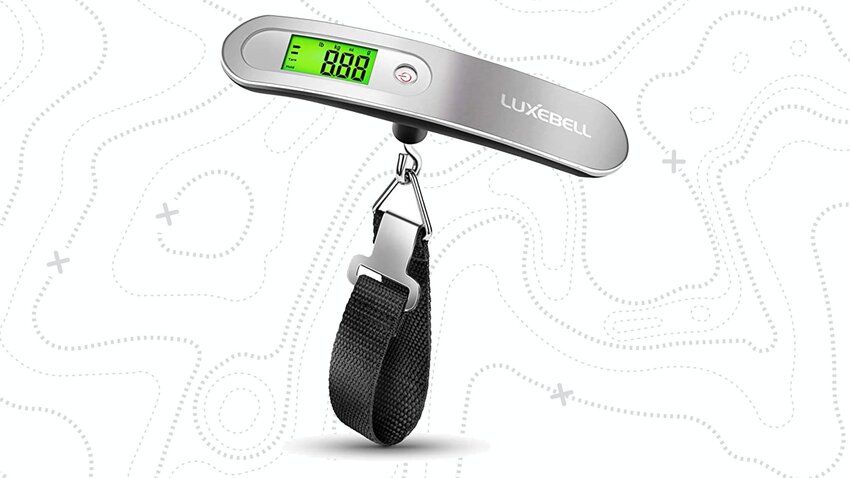 Even the expert traveler gets anxious over an overweight suitcase. Yes, you want to be well-prepared with everything you need — but what if you get to the airport and find out your bag is over the allowed limit?
Cue the Luxebell luggage scale. This $10 gadget ensures that she never again needs to pay additional fees, mail anything home, or empty out her essentials in front of a whole line of people. Even though it's portable and battery-operated, it gives you a precise weight reading up to 110 pounds (or 50 kilograms). Thanks to its one-button operation, backlight, and large digital numbers, it's both easy to use and read.  
Buy it here: Luxebell Digital Luggage Scale| $10
9. This Bottle That Makes Any Water Drinkable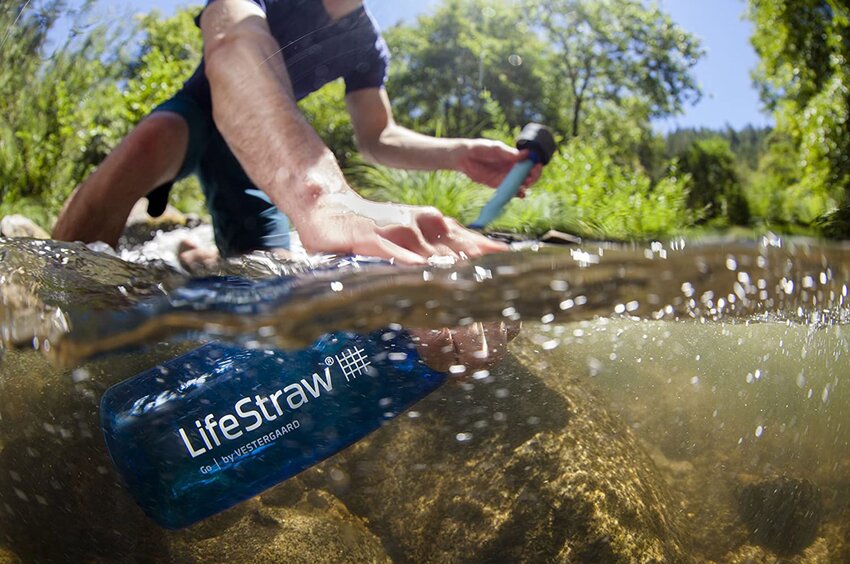 Here's one for the survivalist, hiker, or person who regularly travels out of the country: The LifeStraw Go Filter is a bottle that makes virtually any water drinkable. Just fill it up, and it'll remove at least 99.9% of bacteria and parasites while also reducing odor, microplastics, and chlorine. Finally, it's BPA-free with a food-grade silicone mouthpiece and a clip-on carabiner. Get it in over a dozen colors and decal designs.
Buy it here: LifeStraw Go Filter Bottle |$30
10. The Best Travel Tote on the Internet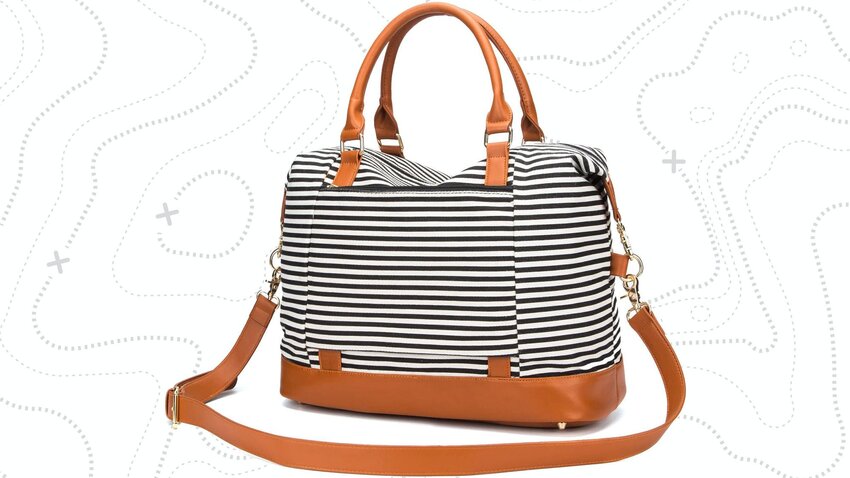 This might just be the most versatile and practical bag she ever owns — but it's not just about function. The BLUBOON travel tote looks like a stylish purse and comes in almost 30 different colors and patterns, including stripes, polka dots, florals, animal prints, and marble designs. That way, you can find one that fits her style to a T.
On the inside, each bag has a huge main pocket for carry-on essentials or everything she needs for a weekend getaway. It also has built-in zippers and pocket organizers for the important, easy-to-lose stuff. Then there's the exterior, which features dual handles, an adjustable strap, and a faux-leather base with metal studs to keep it off the ground. It even has a brilliant pocket that slides over the telescopic handle on her suitcase, so she can jet through the airport with an extra free hand. No wonder it has thousands of reviews and a 4.6-star rating.
Buy it here: BLUBOON Weekender Tote|$35
Main image by Alena Ozerova/Shutterstock.