When I'm home (which is relatively often — I've been working remotely since 2016, after all), I've got the eco-friendly thing down pat. I store all my leftovers in reusable, locking glass containers. I use wool dryer balls instead of disposable fabric-softening sheets. I drink my smoothies out of mason jars using bamboo straws.
Now that I've reduced waste at home, however, I've noticed that when I do leave the house, I end up working my way through a ton of disposable paper, plastic, cardboard, styrofoam, and aluminum foil. There's something about travel that, unfortunately, causes me to backtrack; maybe it's that convenience is a top priority or to-go food is inherently wasteful, but this year, I decided to make a change.  
In 2021, I've been seeking out durable, reusable products that make traveling a whole lot more eco-friendly. First, I started packing with packing cubes (instead of plastic bags) and then I invested in bamboo utensils and straws. Next, I decided to nix fast food whenever possible — which was decidedly better for me, my wallet, and the environment.
Still, even when I attempted to pack my own food rather than stopping at service stations, I realized that I was using plastic wrap and foil in order to get my lunch from point A to point B with me. (I wasn't about to pack my glassware along for a road trip with my dog, anyway.) That's when I learned about Bee's Wrap.
An Eco-Friendly Alternative to Plastic and Foil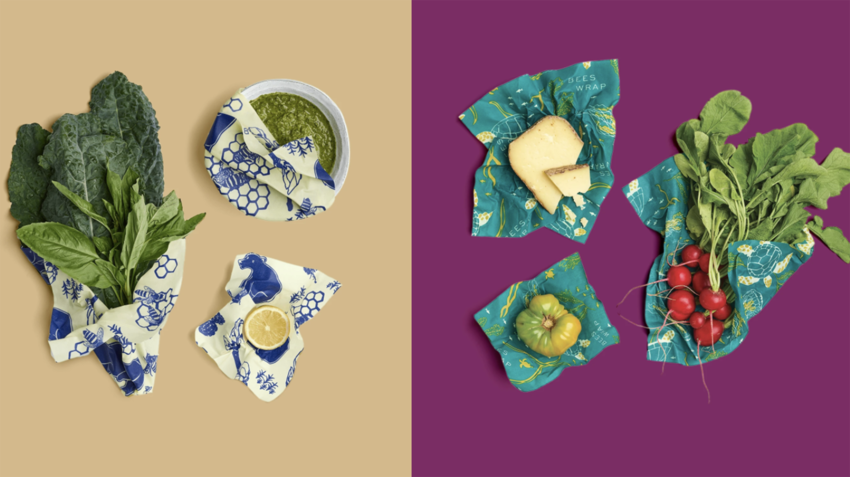 Bee's Wrap is a sustainable alternative that's changing the way people pack and store their food. Think: foil or plastic wrap, but reusable, washable, and made with much cleaner materials. Each sheet is constructed from organic cotton and is infused with beeswax, tree resin, and jojoba oil. As a result, it holds its shape and creates a seal, so you can use it to wrap sandwiches, cover bowls, and keep produce clean and fresh on the go. Once you reach your destination, simply rinse it and let it dry, so it's ready for next time.
These sheets come in various sizes for all types of uses; you can even get an extra-large roll (much like standard plastic wrap) or a wide range of fun designs. And, even once Bee's Wrap reaches the end of its life, it's still not harmful to the environment. After a year or so, when the material starts to fall apart, it's designed to biodegrade without effort. (That means, if given the right conditions, it'll break back down without harming the earth.)
But my favorite thing about this product? The company behind it. They're certified with B Corp and Green America, plus they actively work with partners who save the bees and keep the oceans clean. Last but not least, they're women-run and their products are handmade in the United States using only ethically-sourced materials. In other words, they talk the talk and walk the walk, unlike so many other "eco-friendly" brands.
So whether you're looking for a cleaner kitchen, a waste-free commuter lunch, or a more eco-friendly way to travel, this sustainable food wrap delivers.
Main image by Bee's Wrap.