The thought of camping in the woods can be daunting — hot showers and bathroom facilities aren't easy to come by — but the activity needn't be synonymous with dirtiness. Whether you're off on a quick weekend getaway to a national park or a week-long backcountry trip, there are ways to practice personal hygiene and stay clean throughout your trip. Even better, reduce your impact on the environment with product suggestions that are biodegradable and eco-friendly.
Clean It All With One Soap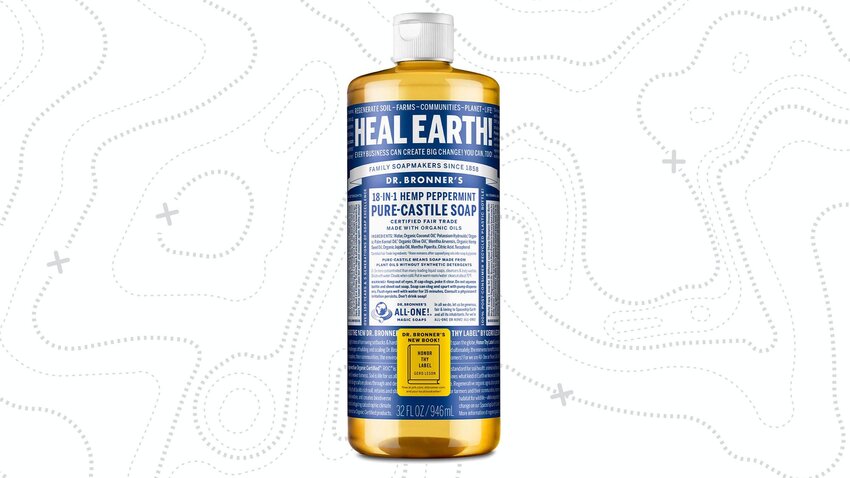 Packing a multi-purpose soap that's tough enough for dishes and sensitive enough for your skin is a space saver when camping. Crafted with plant oils like nourishing olive, coconut, and palm, Dr. Bronner's 18-in-1 pure Castile soap can be used safely to clean almost anything, including dishes, fruits and vegetables, hair, and dirty laundry. A small amount goes a long way, and because it's a highly concentrated soap, consult their website for proper dilution ratios depending on whether you're using it as a shaving cream or as a body soap. While phosphates found in regular soaps can promote algae growth in water sources that can be harmful to animal health, Dr. Bronner's soap is both non-toxic and biodegradable. However, continue to use it at least 200 feet away from your campsite and any stream or lake. Dispose of grey water at your campground's disposal units instead, or scatter the grey water over a wide area away from the site. Though the soap comes in a variety of scents like peppermint, lavender, and rose, scentless is best while camping to avoid attracting wildlife.
Buy it here: Dr. Bronner's 18-in-1 Pure Castile Soap | $16
Don't Skip Out on Brushing Your Teeth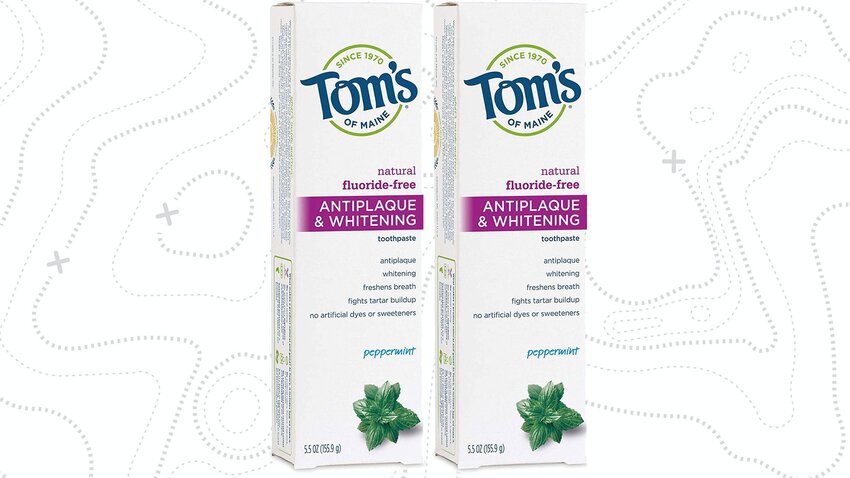 When you're out in the woods where bathroom facilities are non-existent, brushing your teeth without leaving a trace can be tricky. While some campers choose to swallow their toothpaste, others walk far away from their campsite and adopt the spray method by swishing their mouth with water and spraying the residue over a wide area to minimize any potential environmental impacts. This prevents wildlife from sniffing out the residue and eating it later. You can reduce the impact of your oral hygiene routine out in the woods by choosing an all-natural toothpaste, like one from this Tom's of Maine line. Passionate about the quality of their products, Tom's of Maine keeps your mouth feeling fresh with wholesome ingredients derived from vegetable oils, birch trees, and naturally sourced silicas.
Buy it here: Tom's of Maine Fluoride Toothpaste | $8

Take Baby Wipe "Showers"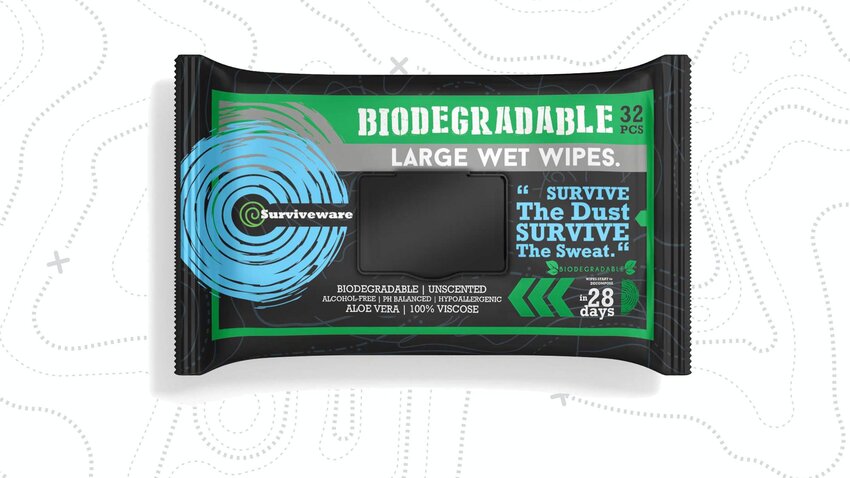 While car campers may be able to afford the space for a portable shower, backcountry goers may prefer to save weight by packing baby wipes instead. In situations where you find yourself far from a body of water, or if it's too cold to jump in for a soak, a baby wipe "shower" can help you feel clean and more comfortable in your own skin, especially on extended trips. To further save weight in your backpack, dry out the wipes ahead of time and rehydrate them with water when you're ready to use them. Make sure they're scent-free so they don't attract wildlife and carry an extra compostable trash bag to pack out the used ones. Though these Surviveware ones are biodegradable, don't leave them behind anywhere, because there's always a chance wildlife can dig them up. Made for outdoor adventurers, Surviveware wipes are gentle enough for sensitive skin, yet tough enough to remove dirt and grime. Their wipes are also large in size, which means you can get away with using less of them.
Buy it here: Surviveware Biodegradable Wipes | $10
Do Your Laundry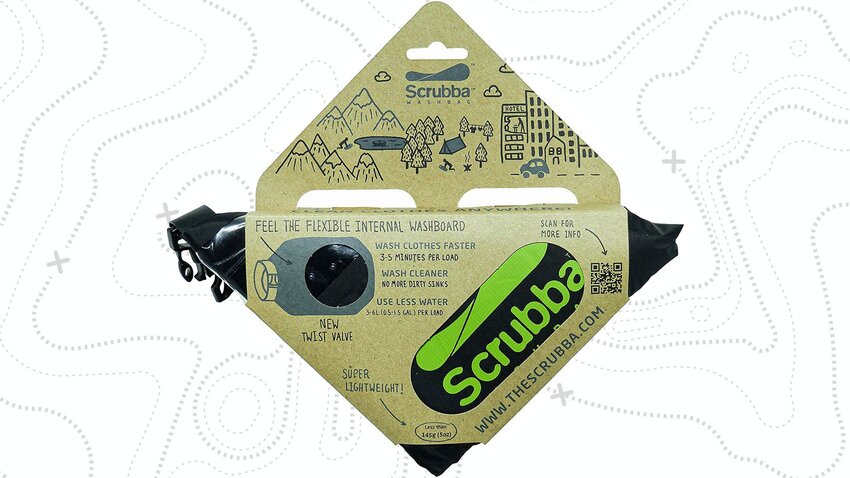 It's likely you're going to have to do some laundry if you're going to be camping for more than a few days. You can toss your dirty clothes into a Ziploc bag along with some water and biodegradable detergent powder for an economical solution, but having a personalized wash bag makes for a more hassle-free, environmentally-friendly experience. This Scrubba Portable Wash Bag comes equipped with a flexible washboard so you don't have to spend time scrubbing each clothing item to get the dirt out — just add water, biodegradable soap, and shake. This ultra-portable bag folds up neatly and doubles as a dry bag to keep your valuables safe in the woods. To keep your clean clothes fresh for longer, store them in a separate reusable grocery bag or packing cube from your dirty clothes.
Buy it here: Scrubba Portable Wash Bag | $55
Keep Your Sleeping Quarters Clean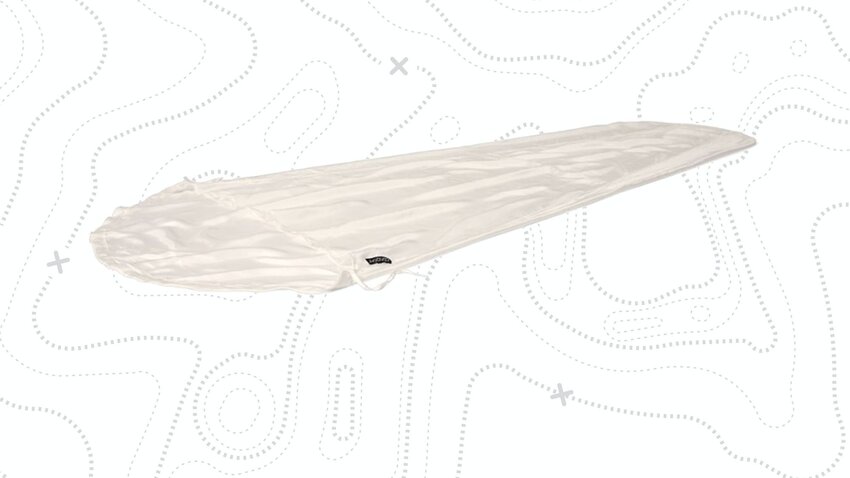 It can be tempting to hop right into your sleeping bag after a long day of adventuring in the woods, but keeping your sleeping bag clean can help you wake up feeling refreshed and recharged. Prevent your sleeping bag from getting dirty, and sweaty by using a liner which you can easily take out and wash at the end of your camping trip. A silk liner, like this Cocoon Silk Mummy Liner by REI, is exceptionally lightweight and breathable and adds a layer of warmth in cold weather. Wiping your feet and changing into a pair of dedicated sleep clothes before getting into your sleeping bag can also go a long way in keeping your sleeping bag clean.
Buy it here: Cocoon Silk Mummy Liner by REI | $65
Dry off With a Microfiber Towel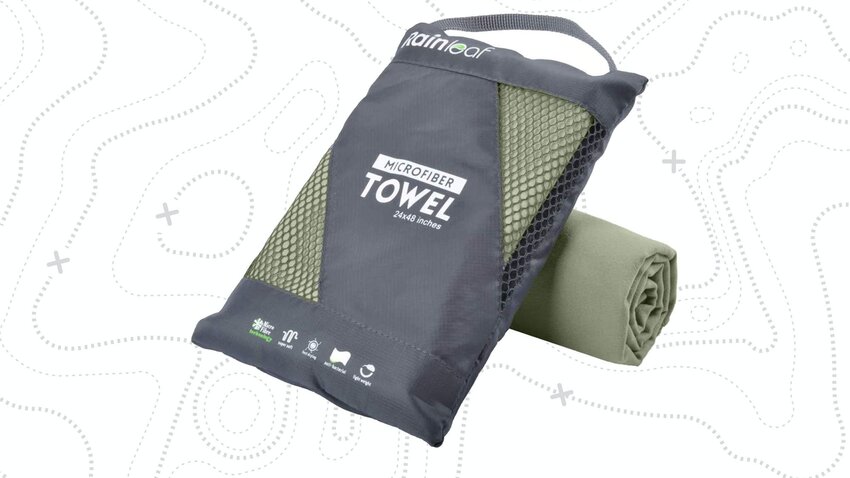 Because they are quick drying and lightweight, microfiber towels are handy to have, especially when you move from campsite to campsite daily. These towels, like this ultra-absorbent one by Rainleaf, prevent your tent from filling up with that distinct wet smell after use. A microfiber towel can work as a mat to lay on around the campfire when you need a break. Rainleaf microfiber towel also have a lifetime warranty, so you can always get a replacement when you need it.
Buy it here: Rainleaf Microfiber Towel | $7 to $21
Main photo by BalanceFormCreative/Shutterstock.