It's late afternoon in a rural Thai beach resort. The sun is shining, but the monsoon rains of a few hours before have soaked the road, washing mud into potholes and creating wide, shimmering puddles. The bus has dropped us some way from the hotel, and we're slowly splashing our way over, luggage in tow. My friend, strapped into her backpack, shoots me a puzzled look. How will I drag my suitcase through the water without getting my stuff wet?
Thankfully, the bag I brought with me is my secret weapon. Zipping down the side, I pull out its concealed shoulder straps and hoist my luggage onto my back. The pack is safely transported across the puddle, and when we arrive at the hotel, I set the bag onto the ground and roll it through the lobby with ease.
Other Bags Didn't Cut It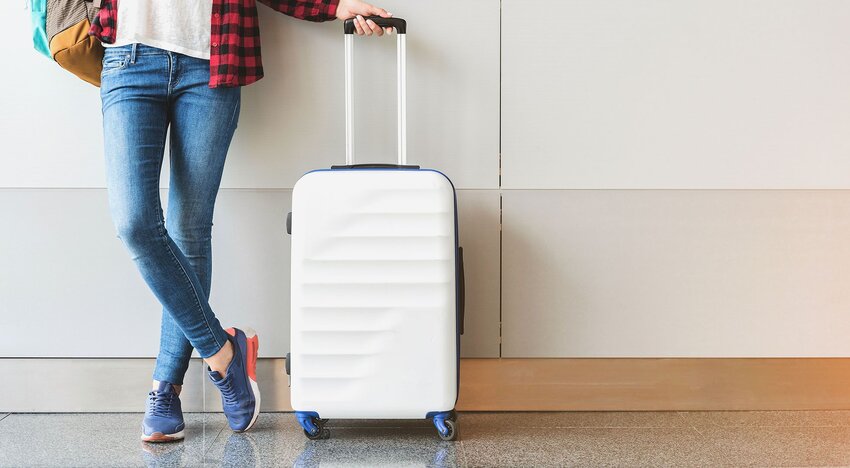 I stumbled upon this ingenious invention after a lot of trial and error. Like many fresh-out-of-college kids who don't know what to do with themselves, I was cramming in as much travel as possible before convention forced me to get a "real job." I've never been much of a backpacker, but I knew hauling a wheeled suitcase over cobbled European streets or rural dirt tracks wasn't ideal. I toyed with the idea of getting a rucksack, but the thought of what carrying dead weight might do to my posture made me shudder.
Looking for a compromise, I bought a cheap wheeled duffel bag a few days before setting off on a rail adventure through France, Italy, and Germany. However, when tilted up and wheeled along, the bottom of my overstuffed bag dragged on the ground. A hole was torn into it by the time I reached our apartment in Paris — just four hours after I had taken it out of the box in London.
European streets also wore out the emergency replacement I bought. What I thought was a sturdy plastic shell on wheels was defeated by a stray peach pit lodged in the wheel. I had to reconsider my luggage choices, as there was no way this could happen on my upcoming trip to Southeast Asia, a whistle-stop tour that would see us traveling somewhere new every two days. I needed something lightweight, durable, and most importantly, flexible. I needed a suitcase that could be carried aloft when the going got tough. I needed a wheeled backpack.
The Convenient and Reliable Solution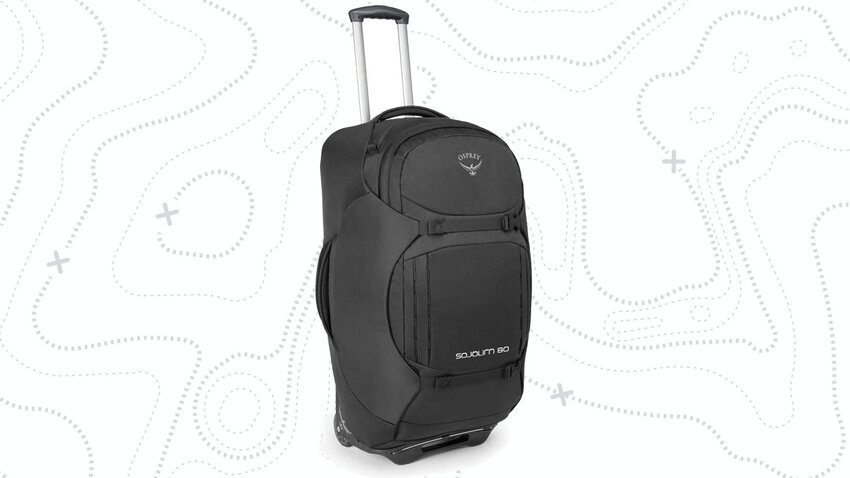 If, unlike me, you can travel light, wheeled backpacks come in a nifty carry-on size. However, you can also buy them in larger sizes as full-on gap year gear, which is what I did. With a substantial 80-liter capacity, the Osprey Sojourn was the biggest wheeled backpack I found on the market, and it looked like it would be perfect for the job. In addition to the magic wheels-and-straps combo, the Osprey Sojourn ticks plenty of other boxes: It has water-resistant fabric, expandable compartments for last-minute souvenir stuffing, and at less than nine pounds, weighs in fairly light.
At first glance, the Sojourn seemed worryingly soft and lightweight, but the chassis around the wheels and at the spine gives it a sturdy structure, which will stand up to even the roughest baggage handling (and those pesky sidewalks I mentioned). The pliable top also meant I could just about squish my bag into overhead luggage racks. The Sojourn even has what it calls "straitjacket" sidewalls, which add a protective layer of cushioning and stop your things from moving around while you're on the move.
When wheels-up time comes and you need to take your bag seriously off-road, the Sojourn comes equipped with shoulder straps designed with ergonomics in mind. Once you've lifted it onto your back, you can tie the body straps around you to distribute the weight more evenly. There's also breathable fabric against your back to prevent you from getting too sweaty, so you can comfortably carry your luggage on those long walks you end up taking when your Maps app sends you to the wrong place.
Plus, there are pockets — infinitely more than you'd find on a suitcase. As we transited through an airport every other day on our Southeast Asian adventure, I saved so much time whipping out my passport or bag of liquids at security when using the Sojourn. I also didn't have to rearrange all my clothes every time we checked into a new hotel, as my toiletries and other essentials could be separated from the cute high heels I had brought (but absolutely did not wear).
One thing to consider, however, is that when you opt for a rolling backpack, you need to become a master luggage organizer, because you'll have a little less space than with a regular suitcase. You can easily fit one month's worth of stuff in the 80-liter Sojourn (especially if you can launder your clothes regularly), but you have to be smart about it. Hot tip: Start with your shoes, and pack everything around them. (And don't bother with heels.)
Even though the Sojourn was an investment of around $340, it was worth every cent. It got me through an intense month of travel, and the trusty bag has journeyed with me on every trip since. It's a lifesaver; I can glide over smooth airport floors in style, but get hands-on when the terrain gets tricky. I'm never going back to a regular suitcase.
Main photo by Alex from the Rock/Shutterstock.