The Alps are a beloved ski destination for three primary reasons: steep slopes, gorgeous scenery, and cheese fondue. The popular dish is found in many restaurants throughout the French and Swiss Alps, and is one of the best meals to consume after a long day on the slopes. Derived from the French word fondre, meaning "to melt," fondue takes melted cheese to a whole new level. Here's everything you need to know about the classic Swiss dish.
History of Fondue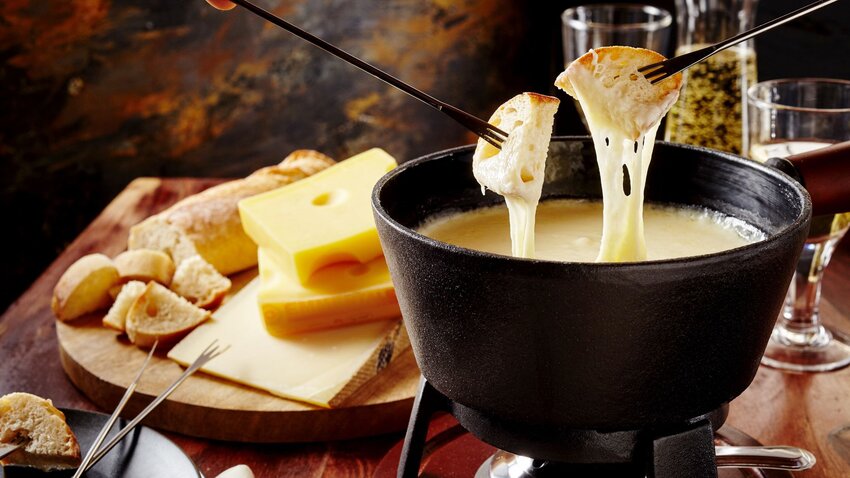 As it turns out, eating a pot of melted cheese has been popular for centuries. The first fondue reference dates back as far as 725 B.C. when Homer alluded to a "mixture of goat's cheese, wine, and flour" in the Iliad. Fondue's more recent origins began in the 1700s when Swiss alpine farmers would melt cheese during the winter months, combining the hardened leftovers with wine, garlic, and herbs as a way to feed themselves during lean times.
Eventually, the fad trickled down into the towns, and by the late 1700s, fondue recipes could be found in Swiss cookbooks. However, it took a century for the fondue we recognize today (melted cheese in a pot over a burning flame) to become a regional staple, especially in the French Rhône-Alpes, on the Swiss border. In the 1930s, it was declared Switzerland's national dish by the Swiss Cheese Union, and today it is enjoyed by locals and visitors alike.
The Only Way to Après-Ski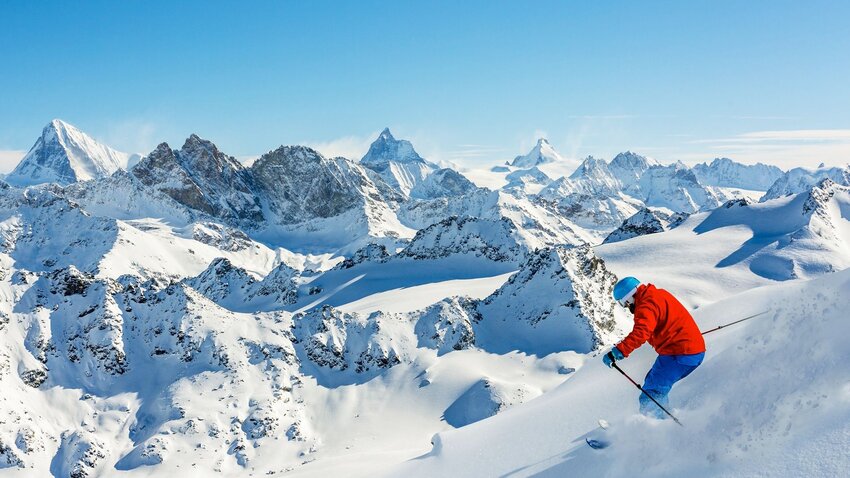 Whether or not you're in the Alps, cheese fondue makes perfect sense for après-ski, a French term that translates to "after ski" and is used to describe congregating with friends for food and drink after a day on the mountain. Not only does fondue provide sustenance after physical exertion and warmth after being in the cold, but it's a communal dish that is best shared with friends. Plus, it's downright delicious.
I was introduced to fondue from a friend of mine who has family based in Chamonix, France, an alpine town renowned for its phenomenal skiing and cheese fondue. According to my friend, it would be sacrilegious to go skiing without a proper après, which is why she insisted on making fondue for a group of us who had gathered for a ski weekend in Vermont.
After a long day on the slopes, she presented us with a pot of melted cheese, set over a burning flame. Still dressed in long johns, ski socks, and beanies, my friends and I congregated around the pot, taking turns to twirl cubes of cheese-laden bread, steamed potato, salami, and apples into sumptuous bites of heaven. From then on, meeting annually for skiing and fondue became a beloved tradition in our group of friends.
Everything You Need to Make Fondue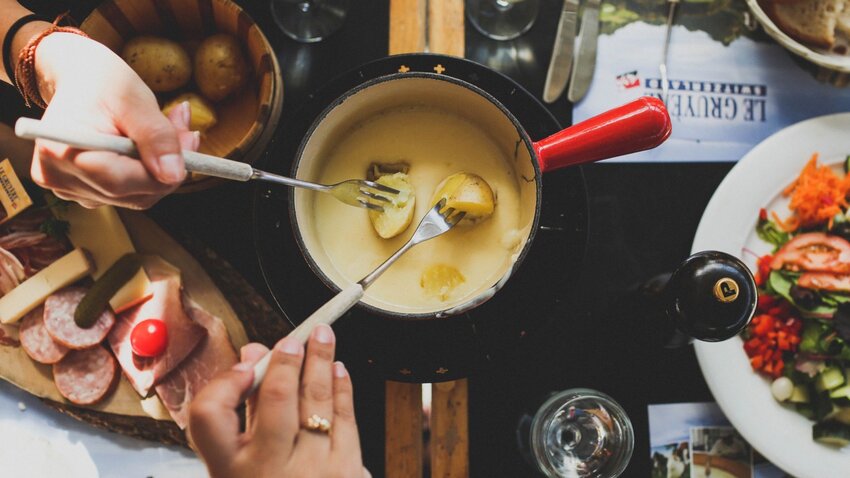 As 2020 came to a close, I came to the shocking realization that without our annual ski trip, not only would I miss seeing my friends — but I wouldn't be able to eat fondue. To rectify the situation, I decided I would have to make fondue for myself. My husband and I had scheduled time away at a secluded mountain cabin in Maine, and it seemed like the ideal time to perfect the art of melting cheese. But first, I would need to gather all the supplies.
On the top of the list was procuring a fondue pot. My friend informed me that her fondue pot was from Crate and Barrel — at only $40 I was happy to find that the pot was both affordable and functional. But since the Crate and Barrel fondue pot was sold out at the time, I went with the Klee Cast Iron Fondue Set, which is similar in size, shape, and material. What I like about both of these pots is they're made of cast iron (a long-lasting material that heats evenly), they contain color-coded forks (it's important to know which fondue fork is yours), and they have removable lids (helpful in scrubbing hardened cheese off the pot). Both pots are appropriately sized for small groups and can feed up to eight people for a light snack or two to four people for a larger meal. (For bigger gatherings, the Swissmar 9-Piece Lugano Fondue Set holds two quarts to ensure no one goes hungry.)
Next, I needed to ensure I could heat my fondue pot. In addition to the caquelon (the pot that holds the cheese), each fondue set comes with a rechaud (base) and burner, but burning gel must be bought separately. Reviewers recommended  Swiss Fire Gel, but I didn't have enough time to wait for shipping, so I bought these 2 oz burning gel Sterno cans at my local hardware store. Even though they weren't designed to go with my fondue set, they worked well, and I was still able to control the heat by placing the burner lid slightly askew on the gel can.
The last special item I needed to buy was Kirsch, a cherry brandy that is essential in making true Swiss fondue. Like all liquor, different brands of Kirsch range in price. My friend who introduced me to fondue uses a more expensive bottle from Schladerer, but I used Arrow Kirsch for $15, and to be honest, I didn't notice much of a difference. Since the recipe calls for under one and a half tablespoons, I expect the bottle of Kirsch will last for years.
Everything else I needed — Gruyere and Emmental cheese, cornstarch, dry white wine, garlic, plus bread and apples for dipping — I bought at the grocery store. I was finally ready to make fondue.
The Art of Après (and Fondue)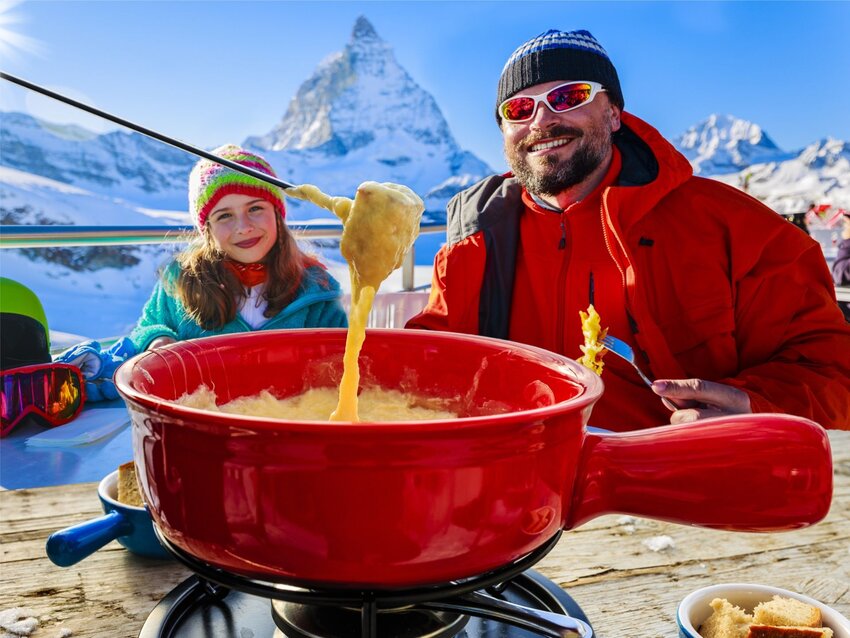 In order to après, one must first do something active in cold weather. If you don't ski or snowboard, you needn't worry. You can always go cross-country skiing, sledding, snowshoeing, or even talk a long walk in the snowy woods. (Trust me on this one, fondue tastes better when you've spent time exercising outside.)
To earn my much-anticipated fondue, I spent the day skiing in 10 inches of fresh snow. As the sun began to set, my husband and I headed home to après. I followed the directions from this recipe from Food and Wine and within 20 minutes, the cheese was melted, the bread was cubed, and the apples were sliced. We poured the champagne, lit the burning gel, and poised ourselves next to a roaring fire, ready to après with aplomb.
It was just as good as I had remembered — creamy, flavorful, and fun. Even though it was just the two of us, the shared meal had a festive air and I still maintain it's the perfect way to end a day on the slopes. With social activities on hold due to COVID-19, I already know that fondue (for two ) will be my favorite way to après this winter.
More Fondue Tips and Tricks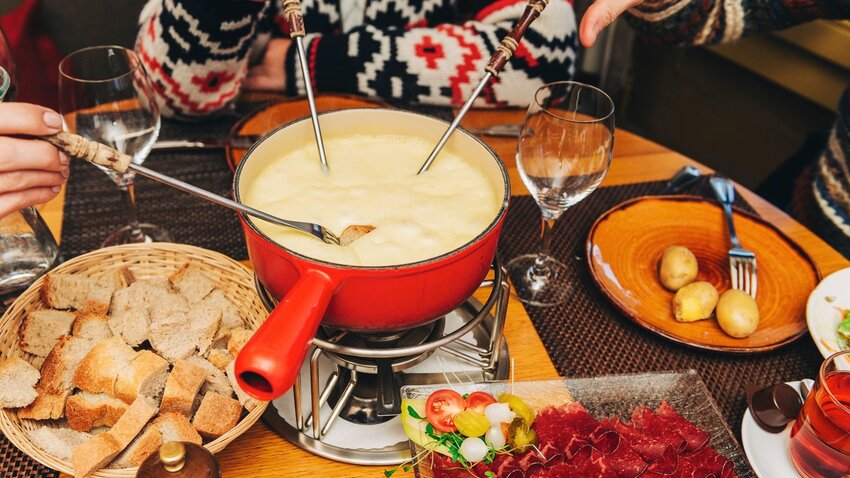 If you've made it this far, hopefully, you're ready to make fondue for yourself. (Good for you!) Here are a few more words of wisdom I'd like to impart:
Remember to regulate the heat from the burner. As the cheese gets closer to the bottom, use the vented burner lid to regulate the strength of the flame.
If you can't finish the pot, save it for later. My husband and I were only able to consume about half of the cheese, so we covered it and put it in the fridge. After skiing the next morning, we unwrapped it, added a little liquid (we used beer, but you could also use wine or Kirsch), and reheated it on the stovetop. It was quite tasty for lunch.
An unofficial rule for fondue: if you drop something in the pot, you have to kiss someone nearby.
One last tip from Chamonix: towards the end of the meal, when the cheese is almost gone, crack an egg into the pot and stir it well. Then use the last of the bread to scrape up the mixture, which will resemble cheesy scrambled eggs.