People have been enjoying the naturally warm waters that bubble from geothermal springs deep beneath the Earth's surface for thousands of years. Archaeologists have found evidence that Paleo-Indians in North America were using hot springs over 10,000 years ago as a source of cleansing and warmth while also taking advantage of the high concentration of minerals for healing.
Hot springs are as popular as ever today for relaxation and healing, with many hot springs resorts available across the globe. Some also include a variety of other wellness services, like treatments that utilize the soothing mineral waters. Whether you're looking for something closer to home or as part of an extravagant vacation, these resorts are sure to provide a blissful experience.
Blue Lagoon – Grindavik, Iceland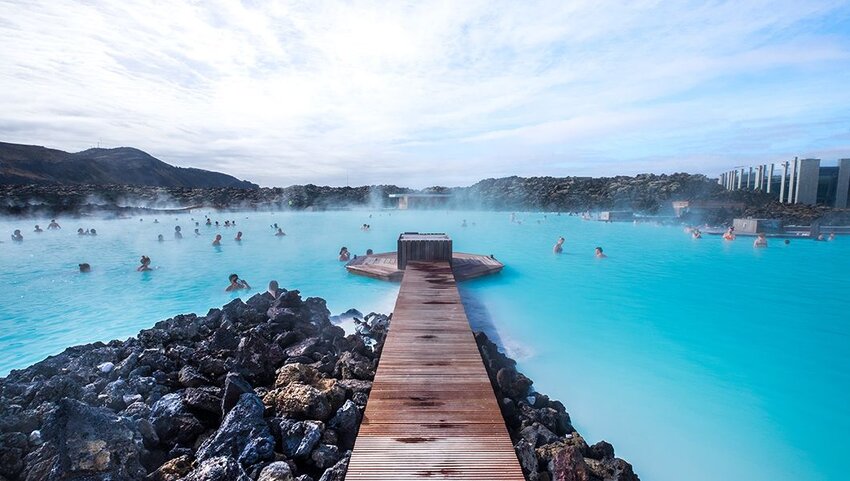 Iceland's famous Blue Lagoon was established in 1981 after an employee at the Svartsengi geothermal power company discovered that bathing in its pool helped relieve his psoriasis. After the word got out, it became the bucket-list destination it is today with the geothermal energy harnessed and produced at Svartsengi still serving as the sole source of the lagoon's hot water.
Located just a short drive from Keflavik Airport, it's the perfect spot to recover from jet lag after a long flight or to reflect on recently made memories after exploring the country. Filled with mineral-rich, milky turquoise water stunningly contrasted by the surrounding black lava rocks, soaking in this lagoon is a heavenly experience. There are also other ways to pamper yourself, like in-water massages, mud mask bars, and other skin-enhancing treatments. A small café sits at the center of the lagoon offering various beverages from beer and wine to healthy smoothies.
While it's possible to visit for just a few hours, there are two hotels on-site for those who want to spend the night. At Silica Hotel, premium entry to the Blue Lagoon and your own private lagoon are included in the rate, while The Retreat Hotel is an ultra-luxe experience with unlimited access to the Retreat Spa and the Retreat Lagoon included.
Ma'in Hot Springs Resort & Spa - Madaba, Jordan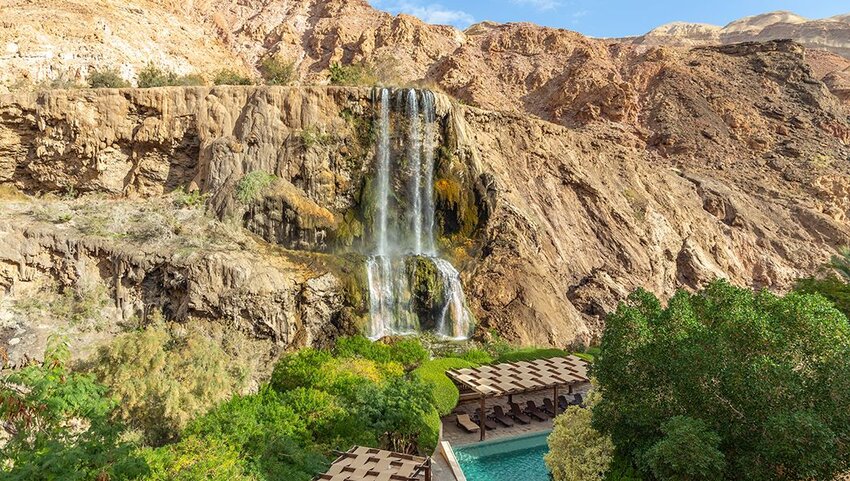 Providing an oasis at the southeast corner of the Dead Sea, within an hour's drive of Amman Queen Alia International Airport, Ma'in Hot Springs Resort & Spa is a standout thanks to its hot springs waterfalls. The geothermal waters flow down a hillside cascading into multiple pools at the bottom for soaking. Herod the Great, a king of Judaea between 37 and 4 BCE, is said to have bathed in the legendary waters himself to take advantage of the natural healing properties.
Visitors can enjoy a day at the resort or stay overnight in one of the luxury rooms. Dining facilities and a range of spa treatments are available, including revitalizing body wraps and massages.
Takaragawa Onsen Osenkaku – Minakami, Gunma, Japan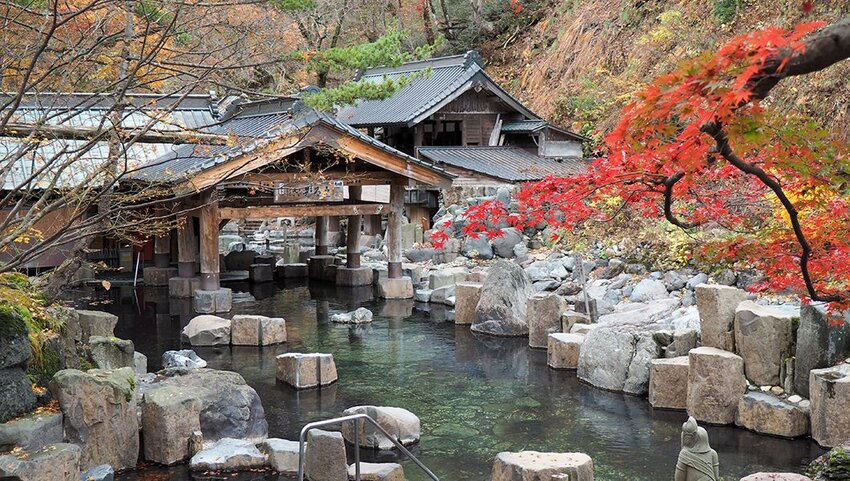 Japan is home to more than 3,000 onsen, which are hot springs set within traditional inns called ryokans. For the ultimate Japanese-style hot springs experience, check into Takaragawa Onsen, nestled in the foothills of the Japanese Alps. While it's doable on a day trip, about 90 minutes north of Tokyo via the Shinkansen bullet train, spending the night at the ryokan, which straddles the Takara River, is highly recommended to get the most out of this serene lush and remote destination. While visitors come for the healing waters, they stay for the breathtaking views. The five outdoor hot springs baths are surrounded by vibrant greenery, though indoor baths are available too.
The Springs Resort & Spa at Arenal – La Fortuna, Costa Rica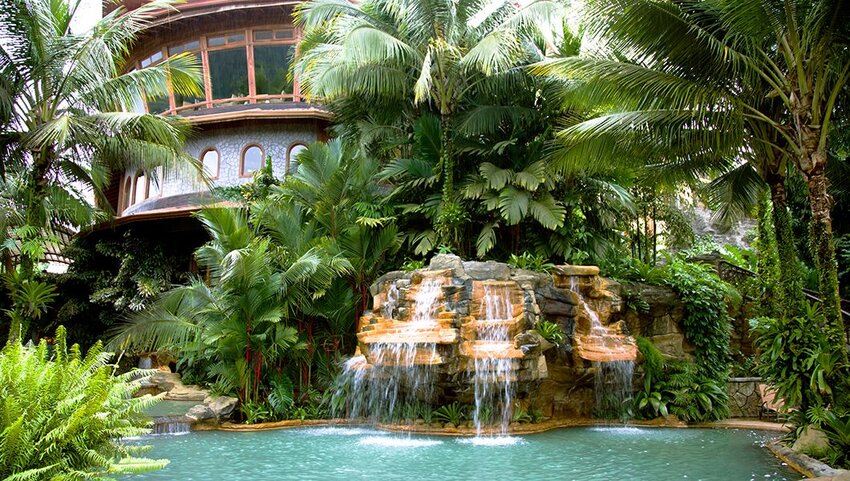 The Springs Resort & Spa is a 5-star resort with 28 hot spring pools and jaw-dropping views of Arenal volcano and the valley. Its only neighbors are the rainforest, river, and farms.  If it looks familiar that might be because it was featured in a 2011 episode of The Bachelor. This wellness wonderland caters to adventure-loving families who can spend their days taking part in everything from horseback riding excursions to river tubing before relaxing at the pools and taking part in decadent treatments at the spa. Babysitting services are available for parents seeking alone time and couples will enjoy it here too – the Honeymoon Visa Room comes with a private outdoor hot tub.
The Gainsborough Bath Spa – Bath, England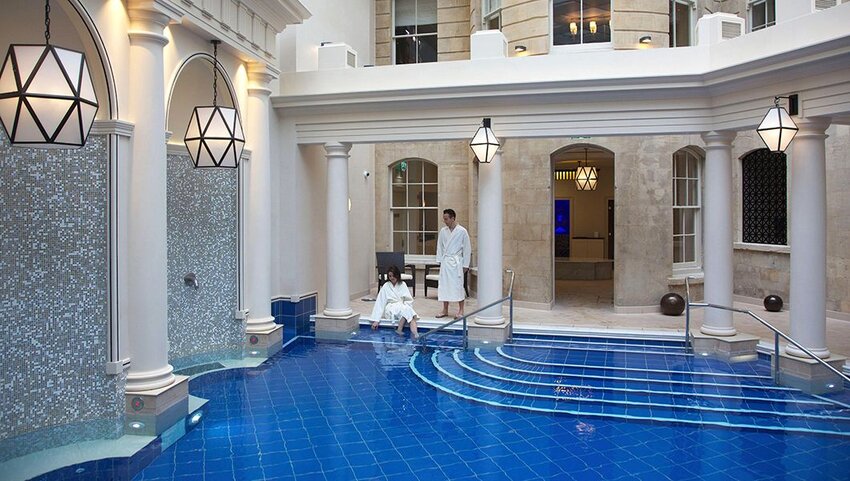 A stunning spa hotel set within a landmark 18th-century Georgian building, The Gainsborough boasts a historic exterior and a modern interior that's like stepping from the past into the future. It's the only hotel with direct access to water naturally heated from Bath's famous underground springs. Guests enjoy complimentary access to the Spa Village which features an elegant atrium pool and other smaller thermal pools, saunas, and treatment rooms. Treatments are available right in the mineral-rich naturally heated waters, like the aqua massage.
Chena Hot Springs Resort – Fairbanks, Alaska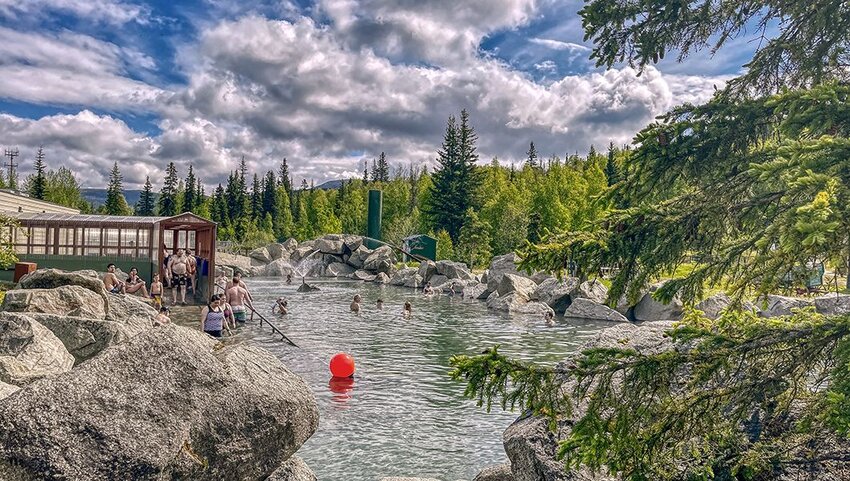 Located about 60 miles north of Fairbanks near the Chena River State Recreation Area, Chena Hot Springs Resort offers the chance to soak while gazing at one of Mother Nature's most impressive sights — the northern lights. The property includes two hot springs pools, hot tubs, and an adults-only hot springs lake. There's even a unique Ice Museum with ice sculptures and an ice bar serving refreshing drinks in ice glasses. Many different activities can be enjoyed as well, including dog cart rides, horseback riding, and ATV tours during the warmer months, while winter brings opportunities for sleigh rides, skiing, and ice skating. A wide variety of accommodation options are available, including campsites, yurts, cabins, guest rooms, and suites.
Dunton Hot Springs Resort – Delores, Colorado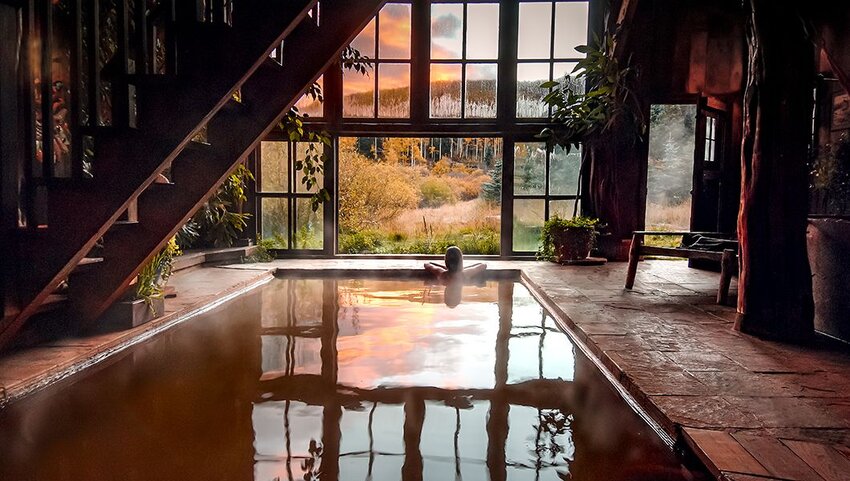 Tucked into the dramatic peaks of the San Juan Mountains in southwestern Colorado, Dunton Hot Springs Resort is a luxurious lodge that offers a unique stay in a meticulously restored 19th-century ghost town. The five-star property boasts a stunning backdrop for soaking in the soothing waters that were first enjoyed by the Ute Indians, then by treasure-seeking miners. Guests stay in historic log cabins while other historic structures house a lavish spa for pampering massages and a saloon that includes the original bar where Butch Cassidy and the Sundance Kid once saddled up for a drink. You'll even see their names carved right into the wood.